Email Validator
Get the most out of your Mailing List...
Essential tool to keep your mailing list clean
Email Validator™ is a simple but very powerful tool for anyone to check email address from a mailing list and determine if the emails are valid or not. Our Email Validator™ is easy to use and reliable. It can verify and clean up mailing list and avoiding Bounce-back / Undelivered emails from your mail box. There is no need to disturb contacts just to verify their addresses. Email Validator™ connects directly to their SMTP server to check them without sending the email.

Email Validator™ works hand in hand with Mail Communicator™ (Permission Based Email Marketing Software).
Email Validator™ is an essential tool for email list hygiene and to avoid ISP's mail servers blocking or barring your email domain because of you repeatedly sending emails to non-existing account holders. Email Validator™ is a powerful and reliable Multithreaded program, capable of handling large volumes of email addresses providing high speed email verification.
Email Validator™ Features
Email Verification: Verify bad email addresses.
Multithread Connections: Number of connections you want to make while performing email validation. More connections will use more system resources and internet bandwidth, but it will speed up the validating speed. Recommended maximum 50 connections. (Available in Registered Version Only)
Size of the mailing List : Handle unlimited size of the email list (Available in Registered Version Only)
Mailing List: Import email lists from .TXT files
Save: Once the addresses have been validated, you can save the valid or the invalid email addresses in two separate files.
---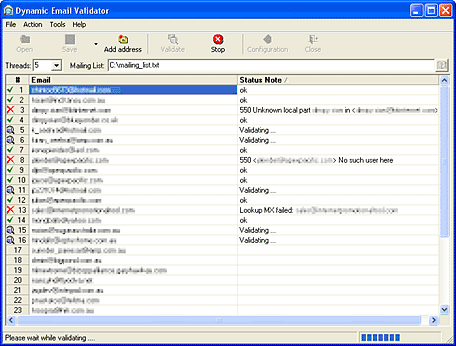 ---
Email Validator™
Freeware Version

Email Validator™
Registered Version

Price

FREE

Suitable for

Individual users or Small
and Home business

Medium sized company
having Large Mailing List

No. of Email Addresses

500

Unlimited

Multithread feature

FREE on going support

30 Days money back guarantee
---